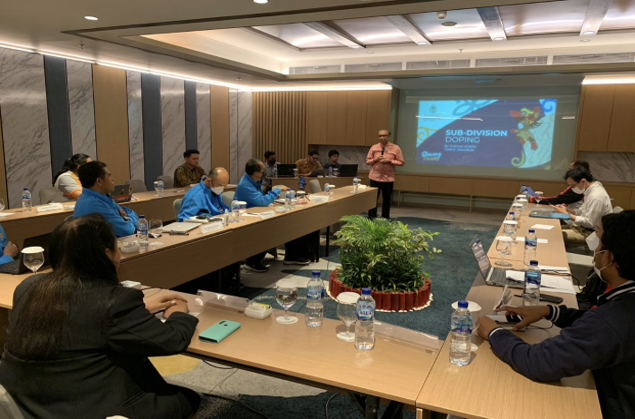 Solo, July 2nd, 2022
One month prior to the opening ceremony of the 2022 ASEAN Para Games, APSF (ASEAN Para Sports Federation) and INASPOC (Indonesia ASEAN Para Games Organizing Committee) conducted a technical plenary meeting on July 2nd, 2022 in Surakarta. The meeting was led by the Secretary General of APSF Mrs. Senior Colonel dr Wandee Tosuwan. The purpose of the meeting was to ensure that all of the preparations should be completed as a guide.

Because doping control sub division was part of INASPOC, IADO was requested to provide all information related to IADO's preparation for ASEAN Para Games. On that session, the Chairman of IADO accompanied by the Director of Education of IADO presented the IADO's preparation, consisting of: information of 11 anti-doping violations (ADRVs), potential consequences of an ADRV, outreach program, doping control program, and recommendation to all athletes and athlete support athletes.

On Q & A session after the presentation, there was no response nor critical comment from either APSF or INASPOC. It was slightly contrary to the others raising various critical comments.