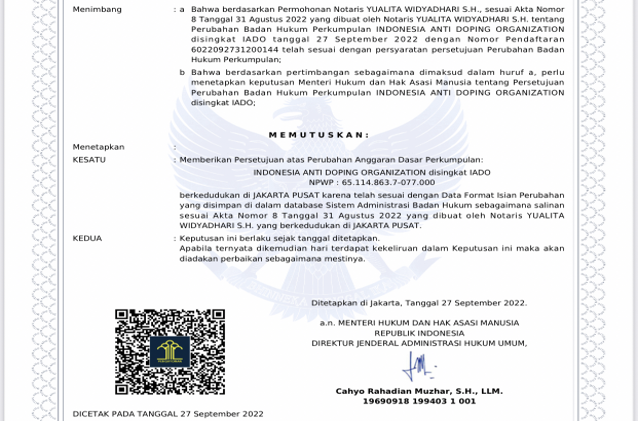 Jakarta, September 27th, 2022
Based on the Law of No. 16 of 2017 on Stipulation of Government Regulation in Lieu of Law Number 2 of 2017 concerning Amendment to Law Number 17 of 2013 concerning Community Organizations to Become Law, IADO on September 27th, 2022 got an official approval from the Minister of Law and Human Rights, represented and signed by the Director General of General Law Administration Mr. Cahyo Rahadian Muzhar on the change of association legal entity of IADO.

This change was not the first time, because it also occurred on May 13th, 2022 after the change of the new chairman of IADO, then to be proceeded to the Ministry of Law and Human Rights. However, this change was an impact of the minutes of meeting of the internal IADO meeting on August 28th, 2022, shown by IADO to the Notary Office of Mrs. Yualita Widyadhari on August 31st, 2022 relating to the resignation of the treasurer of IADO from his position.

The Notary Office then proceeded to send the administrative document to the Ministry. Although this process has nothing to do with WADA, it has shown that IADO complies with all of the rules without violating the Code.