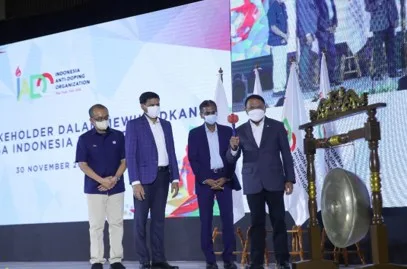 Jakarta, November 30th, 2022
Minister of Youth and Sports Mr. Zainudin Amali officially opened the National Anti-Doping Seminar on November 30th, 2022 in Jakarta. The seminar was also attended by Mr. Saravana Perumal (Manager of Asia Oceania Office of WADA) and Mr. Gobinathan Nair (Director General of SEARADO / South East Asia Regional Anti-Doping Organization). The purpose of the seminar was to enhance awareness among all national sports stake-holders how important anti-doping is. It was the biggest seminar organized by NADO of Indonesia since 2006.

The attendance of WADA and SEARADO was very important, because almost everyone in Indonesia still remember when WADA suspended Indonesia last year due to incompliance to World Anti-Doping Code. By inviting WADA and SEARADO, all stake-holders could learn more about what they have to do to avoid any potential sanction from WADA. That point is very important, because Indonesia will host 3 world-wide sport events, such as FIFA U-20 World Cup, FIBA World Cup and ANOC World Beach Games. IADO is strongly requested to work hard to avoid any sanction.
You can download the presentation here: