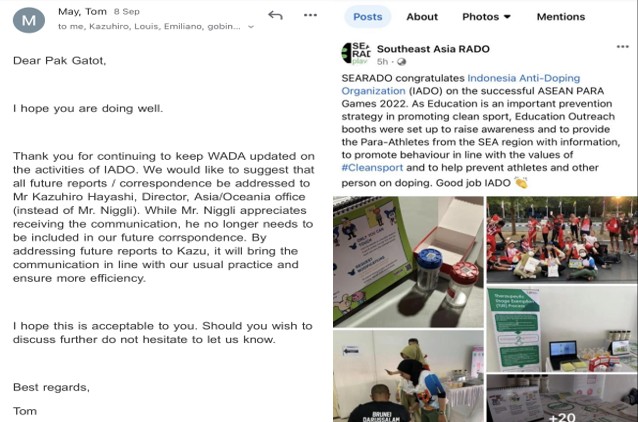 Jakarta, September 8th,  2022
The most important obligation of all NADOs is to comply with the World Anti-Doping Code. That is an official non-debatable requirement. Therefore, by learning from the previous suspension psychologically, technically, operationally and administratively at the end of 2016 to the beginning of 2017 and the last sanction, IADO tried to find a permanent, systematic, manageable and communicative form in order that all of the significant activities shall be reported to WADA and SEARADO. 

Such a routine reporting system does not reduce the main obligations of IADO to fulfill on time and comprehensively all of the data requirement and any activities strongly recommended by WADA and SEARADO. Due to the high frequencies of IADO to deliver the reports, so that WADA raised an appreciation through email on September 8th, 2022, even though there was a suggestion that the next report should be delivered only to the Director of WADA for Asia – Oceania Region Office. A similar appreciation through social media was delivered by SEARADO on August 15th, 2022 after the ASEAN Para Games.