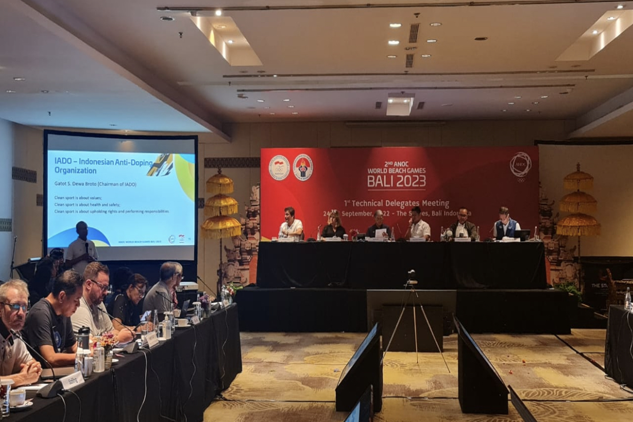 Denpasar, September 24th, 2022
NOC of Indonesia on September 24th, 2022 in cooperation with ANOC (Association of National Olympic Committees) organized the 1st Technical Delegate Meeting of the 2023 ANOC World Beach Games in Bali. The games will be the second edition of the World Beach Games, originally scheduled for 2021, it was postponed until 2023 due to the effects of the COVID-19 pandemic. 

Indonesia officially became the strongest candidate to host the Games, following an announcement made at the General Assembly of ANOC in Crete, Greece, which was held on October 24th and 25th, 2021. However, at that time doubts remained as Indonesia's national anti-doping agency was subject to a ban by the WADA, preventing it from being awarded hosting rights to any international multisport event.

The ban was subsequently lifted by WADA in February 2022. That was the reason for IADO represented by the Chairman of IADO, accompanied by his Secretary General to present the preparation of IADO in supporting the 2023 ANOC World Beach Games on the basis of IADO's successful experiences currently.