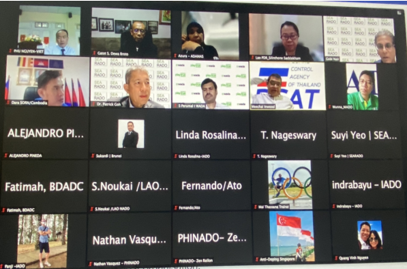 Jakarta, October 18th, 2022
The Southeast Asia Regional Anti-Doping Organization (SEARADO) held a virtual board meeting for the third time on October 18th,  2022. The meeting was commenced from 8 am to 12 am was led by the Chairman of SEARADO Mr. Patrick Goh who was accompanied by the Director General of SEARADO Mr. Gobinathan Nair. Furthermore, the meeting was attended by all of Chairman and their teams of NADOs of the South East Asian region.

There were lots of various topics to be discussed, such as the revised constitution, progress of the completion of CCQ (Code Compliance Questionnaire) by ADAMAS (Anti-Doping Agency of Malaysia), efforts to change mindset of the education targets (this is to criticize any perception that anti-doping education is more than just giving) and to be more active in educating all of national federation.

Other interesting topics related to an offering of WADA on 2023 Social Science Research Grant Program and SEA Games (both 2022 SEA Games in Vietnam and 2023 SEA Games in Cambodia). Generally, the meeting was very beneficial, including for IADO, which is trying to overcome its lag compared to others.