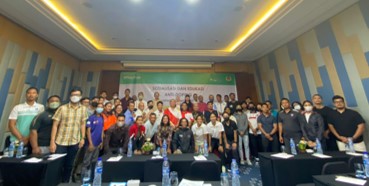 Denpasar, October 18th, 2022
Bali is the seventh province in organizing Anti-Doping Socialization and Education activities by IADO with KONI which was held on October 18, 2022 at the Vouk Hotel, Bali with 52 participants from 25 sports consisting of athletes, coaches and administrator. The speakers from IADO were attended by the Secretary-General of IADO, dr. Eka Wulan Sari, MARS and Director of Education Natashya Marcellina Ardiany, S.Pd, S.M, MA and from the Central KONI represented by Mr. Twisyono.​

One of the questions raised by the participants in Bali was about the number of tests of the doping sample collection. This was asked by the Indonesian track and field athlete who competes in the long jump and triple jump, Maria Natalia Londa. She said that she was asked to do doping testing frequently and it makes her wonder why she had to be tested so often.

Regarding this question, the Director of Education at IADO said that the doping test procedure in accordance with the WADA Code, if you are competing at the national or international level, you are subject to doping control and can be tested anytime or anywhere. ​​Besides that, being a champion is also one of the indicators. After hearing that explanation, Maria felt more relieved after knowing the reason why she was often asked for doping tests.

To conclude, anti-doping education should indeed be an athlete's first experience with anti-doping before doping control or sampling is carried out as stated in the WADA Code and International Standard for Education (ISE).​