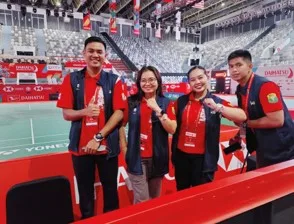 Jakarta, January 29th, 2023
One of the most popular international sport events organized in Indonesia on the beginning of 2023 was the Daihatsu Tournament of Indonesia Masters 2023 on January 24th to 29th , 2023. That tournament was part of the HSBC BWF World Tour Super 500, which used to be organized in certain countries since a few years ago. IADO was invited to do doping control by PBSI (Badminton Association of Indonesia) to support collecting samples. By assigning 2 DCOs and 2 Chaperones, IADO was responsible for Sample Collection Authority (SCA) only based on International Standard for Testing and Investigation, on the basis of Mission Orders from BWF.

Learning from the previous similar tournament, IADO wished that there would not be any athlete indicated or suspected to use any prohibited substance, because it would be very risky for them to try using any prohibited substance on such prestigious sport event. Their disciplines not to use doping did not mean that there was no story on badminton tournament colored by doping. It once happened to Lee Chong Wei (from Malaysia), after participating on the 2014 World Cup in Denmark.