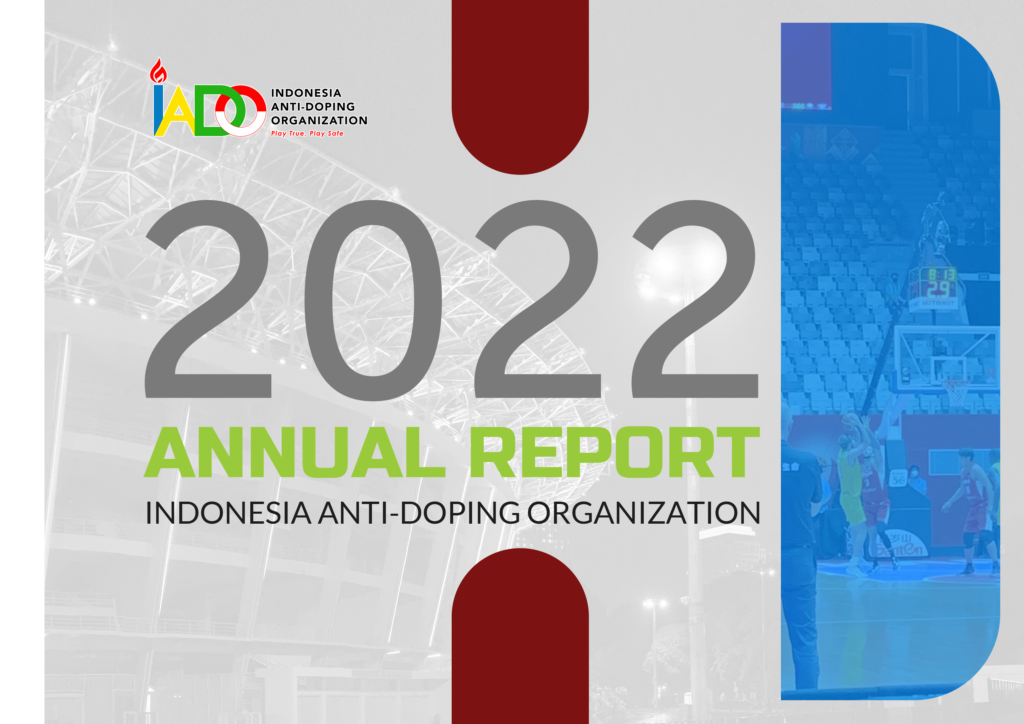 Jakarta, February 3rd, 2023
On this February 2nd, 2023 is exactly one year after sanction against LADI (Indonesia Anti-Doping Agency) was revoked by WADA (World Anti-Doping Agency). As an information, the sanction was decided by Executive Committee of WADA and then their decision was submitted on October 7th, 2021 through the letter signed by Director General of WADA Mr. Olivier Niggli to the Secretary General of LADI at that time. Fortunately, after the management of LADI worked extra ordinary hard and was fully supported by the Minister of Youth and Sports Mr. Zainudin Amali as well as a special mission conducted by Task Force of WADA Sanction Revocation Acceleration led by Mr Raja Sapta Oktohari, then the sanction was lifted by WADA. The Minister of Youth and Sports then officially launched the new name replacing LADI to IADO as the consequence of the final completion of all administrative and approval process had been met from the Ministry of Law and Human Rights. All of procedures were successfully handled by the Chairmanship of LADI at the time.

The duration of one year seems to be very fast, since IADO used to be strongly requested by WADA to reform its organization, operational activities and administrative matters totally in a very short time. It was indicated by a sudden reminder raised by WADA on March 23rd, 2022 warning IADO on CAR (Corrective Action Report) which was compulsory to complete immediately. Supposing that if IADO could not overcome such obligation within 3 months, IADO would be suspended again. Fortunately, IADO was finally in the right position to complete the duty immediately, so WADA on May 28th, 2022 decided that IADO is regarded to comply with the Code related to CAR. It is difficult to image if the sanction was given to IADO by WADA, then it would impact destructively to the organization of FIBA Asia event on June of 2022 in Jakarta, ASEAN Para Games on the end of July to August of 2022 in Surakarta and other international sport events.

Warning on CAR occurring only one and half month after WADA lifted a sanction is a matter which was in the spotlight of SEARADO (South East Asia Regional Anti-Doping Organization) and WADA, since other examples have shown that almost every month IADO was obliged to attend a virtual meeting, whose agendas were to discuss all of activities, budget and human resources instrument readiness, and other cooperation related to IADO. The method on how SEARADO and WADA assessed the objects is very interesting, because they were very detailed and prudent to analyze directly any progress and various sources of IADO by identifying long matric points which should be completed. It was risky for IADO to undermine such monthly virtual meetings with SEARADO and WADA. Both of them did not hesitate to ask and remind directly to IADO to for instance any following matters such as: When will the government through the Ministry of Youth and Sports provide the budget?  What are the reasons for KONI, KOI, NPC and National Federations to delay signing MoU?  Is there any guarantee that all Board of Executives and Staffs of IADO work as full-time employee? Is there any guarantee that there would be no concurrent positions for people working at IADO with those working at KONI, KOI, NPC, National Federations or the Ministry of Youth and Sports? And so on. Something happened at a monthly virtual meeting on the end of May 2022, in which the discussion seemed to be slightly confrontative but fair. Consequently, a day after that somebody from the high-ranking official of IADO suddenly resigned. Everybody felt surprised by such sudden resignation.

Today marks one year since the sanction was revoked by WADA, in which IADO on February 2nd, 2023 already sent officially the IADO Annual Report of 2022 (it is the first time to be published since LADI emerged on 2006), which was fully written in English on 117 pages (it could be downloaded from now of the date on February 3rd, 2023 through website of IADO on this link. The report was last night sent to Director General of WADA and other high-ranking officials of WADA, SEARADO and also related Ministers as well as Heads of National Sports Committees and National Sport Federations in Indonesia.  The purpose of publication of the report is to show to WADA, SEARADO and all national sports stakeholders in Indonesia, that IADO has reformed itself supported fully by the Ministry of Youth and Sports. Moreover, IADO has kept trying and kept fulfilling its compliance with the World Anti-Doping Code.

Certain points included in the Annual Reports are as follow:
This Annual Report is supported with a preface by the Minister of Youth and Sports on his position not to interfere in matters of IADO. On the contrary, it is a manifestation of his commitment and government support in order that IADO to always obeys all regulations determined by the World Anti-Doping Code.
List of persons occupying position on Board of Advisers, Board of Executives as well as TUE (Therapeutic Use Exemption) Committee and RM (Result Management) Committee. For an information, Board of Executives consists of 1 Chairman, 1 Secretary General, 2 Heads of Bureau and 3 Directors. In addition, they are supported by 14 staff personnel.
Vision, mission, strategies and milestone program of IADO to 2032.
Percentage of IADO activities based its unit.
The number of products of Standard Operating Procedure from September 2022, namely 22 SOPs.
IADO already translated in English of the Law of No. 11 of 2022 on Sports and the Articles of Association of IADO. Furthermore, IADO established the Bylaw of IADO (it was then translated in English), and translated in Indonesian of the IADO Anti-Doping Rule. In addition, IADO established the Regulation of IADO Chairman on Organization and Work Mechanism of IADO (it was also then translated in English).
Compliance of IADO to consult and complete its administrative matters to Notary Office and Ministry of Law and Human Rights on case of IADO used to replace its high-ranking officials. These should be done because these refer to its Articles of Association and Bylaws.
The parties which are already engaged to have MoU with IADO are as follow:  KONI (National Sports Committee of Indonesia), NOC of Indonesia, NPC of Indonesia, PSSI (Football Association of Indonesia), PASI (Athletics Federation of Indonesia), PABSI (Indonesian Weightlifting Federation), FPTI (Indonesian Climbing Federation), PERBASI (Indonesian Basketball Association), WI (Indonesia Wushu Federation), and PRUI (Indonesian Rugby Union). 
IADO has signed an agreement with 31 Sample Collection Personnel (DCO and BCO). Based on the agreement it is clear mentioned on articles regulating their right, obligation, and on the contrary prohibition to do by DCO nor BCO.
Chairman of IADO has signed so-called integrity pact / agreement with all high-ranking officials and staffs of IADO.
It is reported to have significant increase of visitors to website of IADO.ID on the last 3 months, in particular since the National Anti-Doping Seminar organized on November 30th, 2022. That increase included foreign visitors by mentioning their original country.
IADO reports the whole financial support from the Ministry of Youth and Sports was nearly Rp 18,161,577,728, in which its budget absorption rated up to 98%.
Detailed financial spending consists of: 29% for Testing, 28,44% for Education; 27,56% for Office Expense; 14 ,56% for Secretariat; and 0,44% for Intelligent and Investigation.
50.77% of sample collections were from ICT (In Competition Testing) and 49.23% of sample collections were from OOCT (Out of Competition Testing).
There were 24 National Sport Federations in which their athletes were collected of their samples.
It also reports the number of samples collected from various international sport events.
Composition of the number of DCO and BCO living in various regional area is available.
Education activities conducted from August to December of 2022 are described by comparing 89% on face-to-face activities and 11% on virtual activities.
The number of personnel who attended anti-doping education was 2,345 persons, consisting of athletes (mostly), coaches, coach assistants, medical teams, and those from the sports organizations.
IADO created a new directorate of Directorate on Intelligence and Investigation, whose duties are very specific, to ensure not only as to monitor and listen for the interest of IADO, but it has also duties to conduct any investigation.
IADO has an Ad-Hoc Committee. They are TUE Committee and RM Committee, in which both are independent on their own position and decision. TUE Committee conducted a few education activities in 2022. In addition, that committee received 2 applications: one was approved, whereas another one was rejected (it was caused by availability of prohibited substance).
During 2022 there was actually no indication of athletes using doping. RM Committee however was busy with few activities of organizing hearing and appeal sessions for those suspected to use prohibited substances on the 2021 National Sports Games and the 2021 National Paralympic Games in Papua.
During 2022 IADO organized the following various meetings which are classified as: meetings between LADI / IADO with the Minister of Youth and Sports; meetings between IADO with Notary Offices, internal IADO meetings, virtual meetings between IADO with SEARADO and WADA; participations of IADO on WADA international forums; direct meetings between IADO with WADA and SEARADO; and direct meetings between WADA and SEARADO with the Minister of Youth and Sports.
IADO used to be very occupied with having and or attending various activities. Some of them occurred at similar times.
Organization of the 2022 National Anti-Doping Seminar on November 30th, 2022 in Jakarta.
The report also provides examples of agreement between IADO with DCO, and MoU between IADO and NOC.
Jakarta, February 3rd, 2023.

Chairman of IADO
Gatot S. Dewa Broto