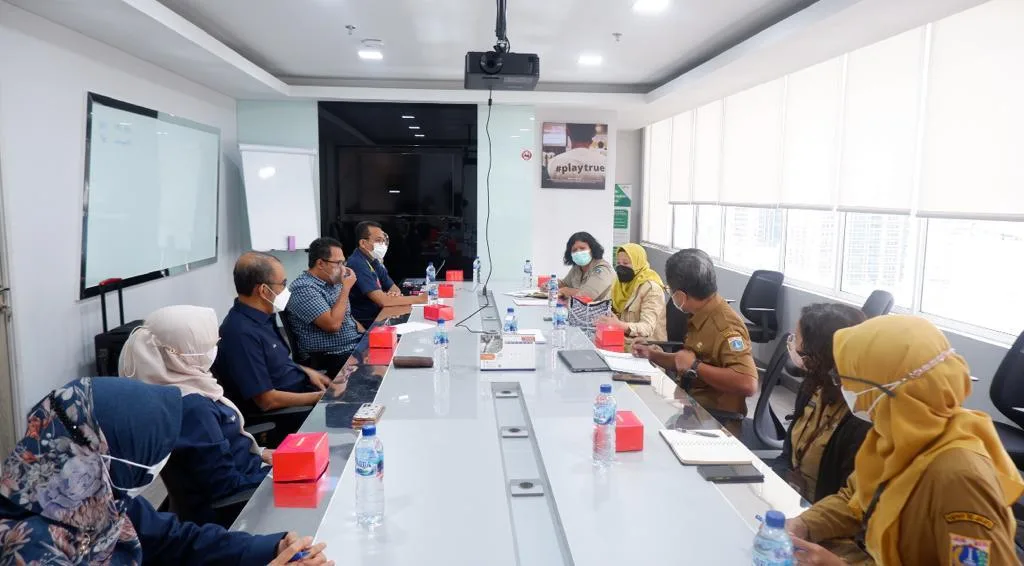 Jakarta, February 28th, 2023.
IADO was visited by High-Ranking Officials of the Jakarta Regional Health Laboratory led by its Head Mr. Budi Wibowo on February 28th, 2023. The purpose of the visit and having a meeting with IADO was to put same perception on how to establish a possible WADA-accredited anti-doping laboratory in Jakarta. IADO fully respected the visit, because it enabled them to have a very comprehensive information from IADO on what any government has to fulfill for establishing an anti-doping laboratory based on World Anti-Doping Code and International Standard for Laboratory.
At the introduction, Chairman of IADO accompanied by his high-ranking officials provided explanation why the Government of the Republic of Indonesia and IADO have not yet shown their eagerness nor fixed plan to establish an anti-doping laboratory. It is obviously a great wish to establish it. However, on the basis of very tight requirements regulated on the International Standard for Laboratories, so that such a plan is not a priority in the short coming years. For example, Article 4.1.3 on Provision of Letter of Support states among others: ……Such letter(s) of support shall indicate a commitment to provide the Laboratory with a minimum of 3,000 Samples per year by the end of the second calendar year after obtaining WADA accreditation…..As comparative data, IADO collected 548 samples only on 2022, so there should be additional samples until 2,452 which are impossible mostly obtained from any surrounding countries, whereas in facts there are already few of the WADA – accredited anti-doping laboratories which are not far from Indonesia such as in Bangkok, Sydney, Tokyo, Seoul and Doha. Sanctions imposed by WADA on March 2009 to laboratories in Ankara and then Penang provided a good lesson that there should be very comprehensive studies and very intensive consultation with WADA prior to plan to establish any anti-doping laboratory in Indonesia.

After having long, beneficial discussion, IADO and the guests from Regional Health Laboratory of Jakarta has same point of view, that there should be very careful, comprehensive, and precise studies as well as good coordination with other stakeholders such as Ministry of Youth and Sports, Ministry of Health, National Sports Committee of Indonesia (KONI), NOC of Indonesia, NPC of Indonesia and National Federations, because those ministry and national sports organization could identify how many event annually could be organized or could be involved by Indonesian athletes on any foreign events. IADO also put another critical point that the amounting number of events to be optimally organized by any entities in Indonesia does not guarantee that there would be enough number of samples more than 3,000 which could be collected. It relates to the achievement of those athletes in at least Asian region championship. Furthermore, if Indonesia will promote its anti-doping laboratory to the surrounding countries, it is not easy because they prefer to deliver to the existing anti-doping laboratories. In conclusion, IADO will support their intention provided that regulations stipulated by WADA are mandatory to be complied strictly and consistently.