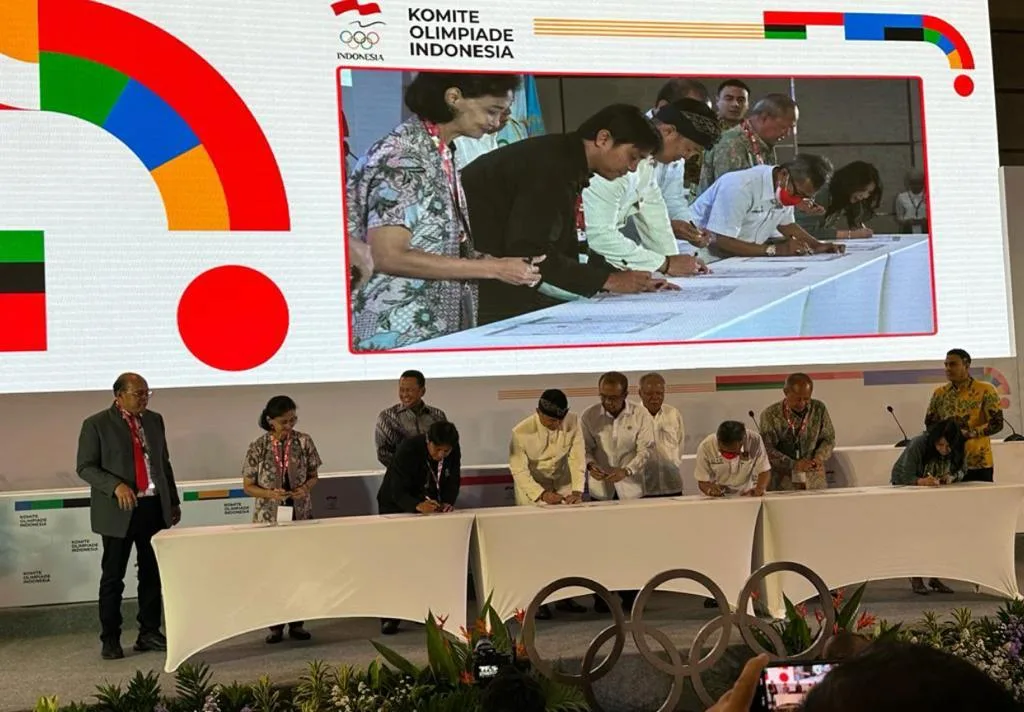 Jakarta, March 6th, 2023
NOC (National Olympic Committee) of Indonesia organized an Annual Member Meeting and Extra Ordinary Meeting on March 6th and 7th, 2023 in Jakarta. The meeting was very important, because it enabled NOC led by Chairman Mr. Raja Sapta Oktohari to discuss various topics related to targeted national sports achievement on various international multi events and or single events. On the opening session, Chairman of NOC signed MoUs with 6 institutions, namely: IADO (Indonesia Anti-Doping Organization), Sports Desk of Indonesia Journalist Association (SIWO PWI Pusat), Indonesia Sports Psychologist Association (IPO), Association of the Indonesian Tours and Travel (ASITA), State University of Jakarta (UNJ), and State University of Surabaya (UNESA). The purpose of such MoUs is to support NOC in accelerating national sports achievement based on their own competences.

For IADO itself, the MoU will play an important role, since it was the second agreement signed by NOC of Indonesia and IADO after being signed on November 18th, 2022 at NOC's office. Accordingly, that agreement signed on March 6th, 2023 was a cooperation implementation agreement as the follow up of the previous MoU.
As an information, on the short coming months, there will be SEA Games and ASEAN Para Games in Cambodia, Asian Games and Asian Para Games in China, and Asian Indoor and Martial Arts Games in Thailand. Based on the official letter from OCA (Olympic Council of Asia) and SEARADO (South East Asia Regional Anti-Doping Organization), submitted to all NOCs of Asian and South East Asia Region, it is strongly recommended for each NOC in cooperation with their own NADO (National Anti-Doping Organization) to organize their own anti-doping education for those athletes who will be assigned to participate on these multi-events related to NOCs responsibilities. On the scheduled program, IADO will conduct an ADEL (Anti-Doping Education and Learning platform) in cooperation with NOC next week by inviting a number of certain athletes who will be dispatched to SEA Games. Even though there is not yet a fixed list of athletes, IADO will use the preferred list available on its TP (Testing Pool) and RTP (Registered Testing Pool) which are nearly 250 athletes compared to the total athletes of 600 persons. However, IADO always reminds all athletes obtaining any anti-doping education, that it does not guarantee for them to be regarded as to be free from doping.