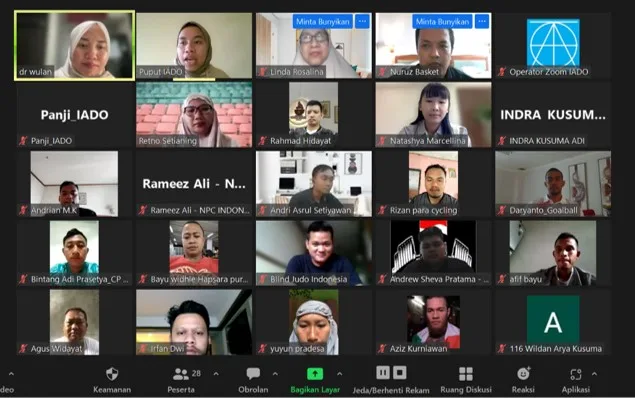 Jakarta, April 29th, 2023
On April 29th, 2023 a supervision was held regarding Whereabouts to NPC Indonesia, attended by 24 personnels consisting of coaches, assistant trainers, administrators and several medical teams. The presentations were provided by speakers from IADO.

They stated that only athletes who enter the RTP (Registered Testing Pool) are required to have an ADAMS account and provide information on their whereabouts. Apart from athletes who are included in the RTP, the same thing also starts to be applied to athletes who are included in the next layer pool, namely the TP (Testing Pool).

Such explanation was clear that filling in the whereabouts information shall be only done by athletes who enter the pool instead all athletes or all sports in NPC Indonesia. IADO used to be sure that through that activity would provide enhanced anti-doping knowledge to the NPC Indonesia, because Whereabouts is relatively a new knowledge for athletes and athlete support personnel in Indonesia even though it is already shared as a mandatory activity by WADA since few years ago. It is the challenge for IADO to accelerate its education to all elite national athletes across the country.