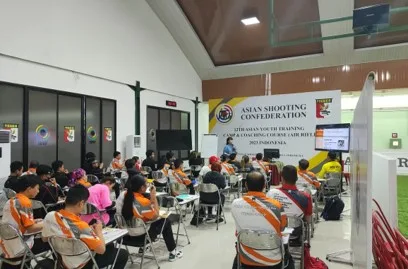 Jakarta, 9 July 2023
The Asian Shooting Confederation appointed the Indonesian Shooting Association (PERBAKIN) as the organizer of the 12th Asian Youth Training and Coach Camp on July 1st to 11th of 2023. This activity was held at the Shooting Field of, Senayan, Jakarta, attended by 14 countries in Asia such as Timor Leste, India, Malaysia, Philippines, Singapore, Vietnam, Iran, Bhutan, Oman, Pakistan, India, Yemen, Turkmenistan, Indonesia. The number of participants was 34, consisting of 18 athletes and 16 coaches.

In that activity, PERBAKIN invited IADO to participate in giving anti-doping education material on July 9th, 2023. IADO was represented by the Director of Education, Natashya Marcellina Ardiany, S.Pd, S.M, MA. However, before delivering anti-doping education materials, participants were asked to complete the pre-test as well as the post-test after the education was given. These activities aimed to find out on the level of their knowledge before and after the material was delivered.

After the pre-test and post-test were given, it could be assumed that the test scores obtained by participants on the post-test were better than the pre-test. Accordingly, it can be concluded that the provision of educational materials had added knowledge and information to the participants.

Furthermore, since the participants came from various other countries in Asia, the IADO Director of Education said that participants could actively communicate with their NADO and anti-doping representatives in their countries. That includes obtaining education through ADEL which may also be available in the language of their own country of origin to make it easier to obtain anti-doping education.