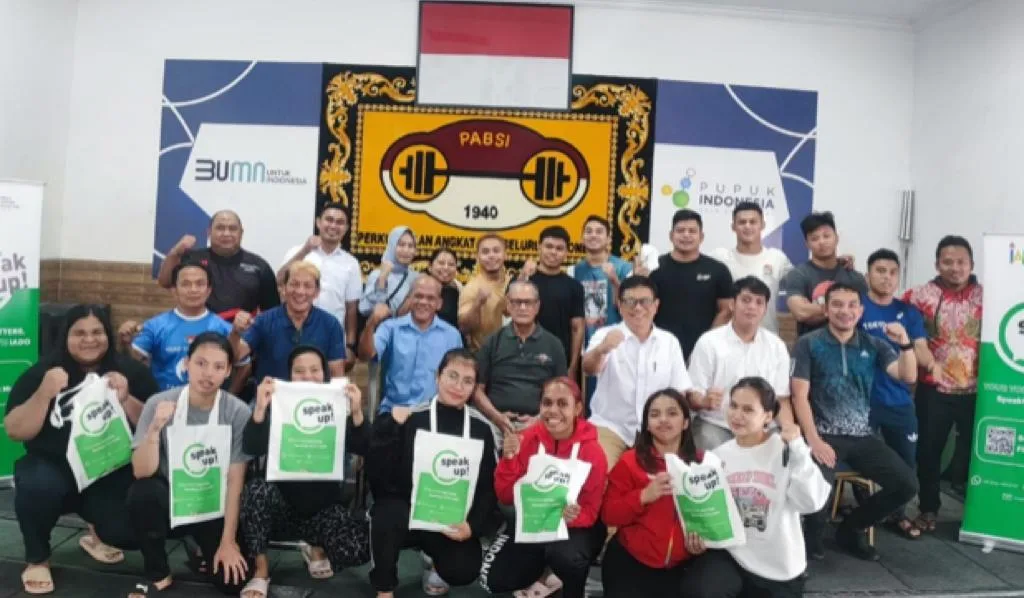 Jakarta, 3 August 2023
The continued collection of athlete's personal information to provide an understanding of the importance of Spek Up in creating equality in sports and the realization of clean sports was one of the findings during the WADA Team's audit at IADO on April 2023. In that regard, on August 3rd, 2023, the Directorate of Intelligence and Investigation supported by the Directorate of Testing of IADO conducted an activity to collect personal information on athletes of the Indonesia Weightlifting Federation (PABSI) at PABSI's office That activity was warmly welcomed by Mr. Djoko Pramono, the Secretary General of PABSI. That visit was a special moment, because the athletes and ASP showed their high enthusiasm, especially considering that they will take part in the International Tournament in Riyadh, Saudi Arabia, as a qualifying event for the 2024 Pre-Olympic Games in Paris.

PABSI recognized the importance of awareness about anti-doping. Therefore, the presence of the IADO team, in addition to collecting athletes' personal information and introducing the IADO Speak Up platform, also aimed to bring athletes closer to IADO. This event was attended by 14 athletes and 8 ASPs, and took place with great success and enthusiasm. The presence of ADAMS personnel from IADO also provided extra support by assisting athletes in checking and adjusting Whereabouts, as well as providing an opportunity to discuss problems that are often faced by athletes in filling in Whereabouts.

IADO felt happy and grateful for the active participation of athletes and ASPs in that activity. The enthusiasm shown by all participants greatly motivates IADO to continue to strive to maintain the integrity of sport and prevent doping violations. IADO hopes that through that event, awareness and understanding of Anti-Doping will increase, and athletes can get closer to IADO as a partner in keeping sport clean and fair. That activity was also inseparable from the support and good cooperation from PABSI, which has helped in holding the event smoothly and safely. PABSI also expressed their appreciation to the entire IADO team who worked hard to ensure the success of that event.

The participants were very interested in the material presented, it was also important for athletes to fill in personal information correctly and properly because it is very important for doping control as well as for the interests of the athletes themselves, given the experience so far that many are wrong or incomplete, including cellphone number data as well as addresses. Furthermore, according to the target of the Directorate of Intelligence and Investigation to be able to obtain personal information on athletes from 36 sports, similar activities will continue to be pursued until the end of 2023, then it is hoped that the data results will be the start of the process of creating a database in order to realize AI (Artificial Intelligence).