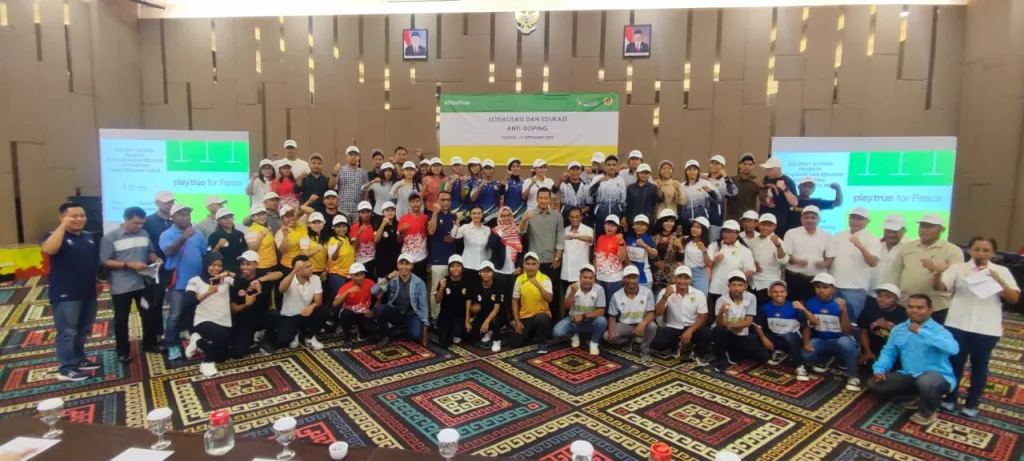 Kupang, 12 September 2023
In collaboration with KONI (National Sports Committee of Indonesia) and the Ministry of Youth and Sports, IADO conducted an anti-doping education activity in Kupang, which was attended by 70 participants consisting of athletes, coaches, academics and administrators from several sports in East Nusa Tenggara province. The activity was carried out by presenting resource persons from the Headquarter of KONI Mrs. Lilik Sudarwati as Chairperson of the Sport Science & Application of Science and Technology Division and Resource Persons from the Assistant Deputy for Sports Personnel and Organizations – Kemenpora Mr. Cucu Sundara as the Person in Charge of Management of Functional Position of Sports Trainers and Assistant Sports Trainers. Meanwhile, the Anti-Doping Overview was delivered by the Head of IADO Planning Bureau, Mr. Panji and then Anti-Doping Education was delivered by IADO Education Staff, Dewi Putri Susanti.

In each session, there were questions asked by the participants, both in terms of sports bureaucracy delivered by the Ministry of Youth and Sports, and preparations for the doping-free PON 2024 Aceh and North Sumatra and Anti-Doping sessions. There was a similar question that used to arise in every region, namely "many athletes consume coffee before training or even competing, does that include doping?" On such cases, the Head of the IADO Planning Bureau, Mr. Panji answered that coffee, especially caffeine, is no longer included in the list of prohibited substances but is still under supervision, so athletes who must have strict liability must be aware of any consumption of drinks with reasonable limits.