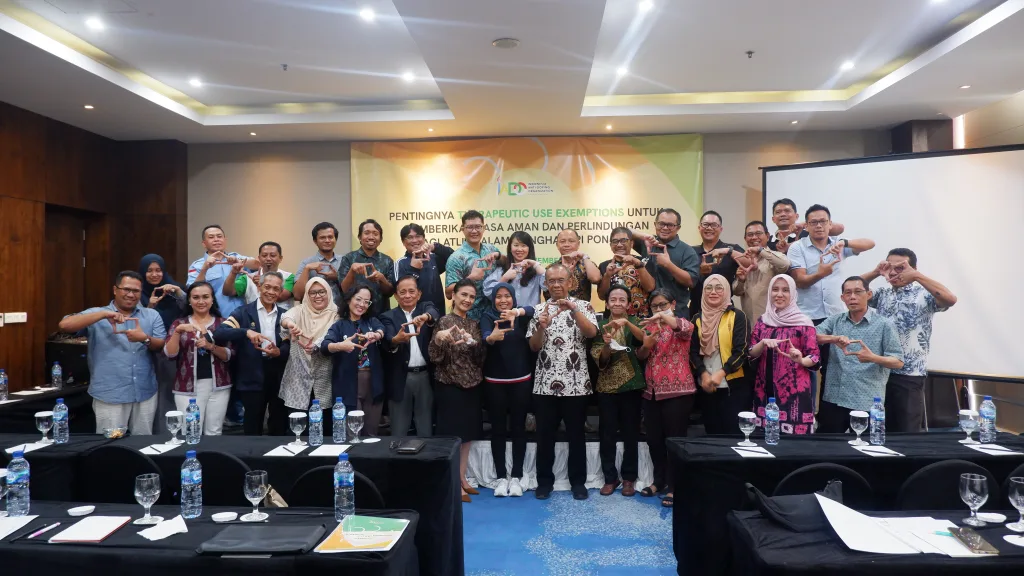 Jakarta, 3 November 2023
IADO organized a Seminar on T.U.E. (Therapeutic Use Exemptions) from November 2nd to 4th, 2023 inviting doctors and medics coming from the various Province Offices of KONI (National Sports Committee of Indonesia) across the country. The theme of that seminar was "Importance of Therapeutic Use Exemptions to Bring Safety and Protection for Athletes in Preparation for PON (National Sports Games) 2024". The response to that seminar was positively welcomed by the participants as they actively followed all of the activities in the seminar.

Through that seminar, participants raised their awareness of the importance of anti-doping in sport. One of the responses received was from Prof. Dr. dr. BM. Wara Kushartanti, M.S, a doctor of the KONI Province of Yogyakarta, whose team in collaboration with Gadjah Mada University has initiated the application to be accessible to athletes to find out if the composition of the drugs they have consumed contains any of the banned substances.

Other participants also pointed out that they didn't know about T.U.E. before attending the seminar. Although the IADO Education Directorate program has visited several regions in Indonesia to conduct anti-doping education, the TUE Seminar was very important. Such comments appearing on the seminar were challenges for IADO to be better in educating athletes and athlete support personnel, especially in the remote regions of Indonesia. In addition, it was also important to help them understand the value of clean sport and the dangers of doping.