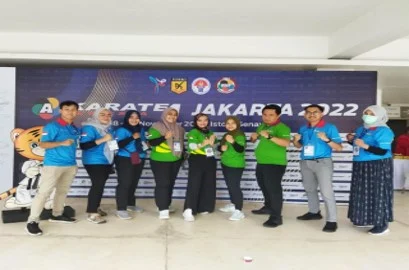 Jakarta, November 20th, 2022
The Indonesia Karate Federation successfully completed the 2022 WKF International Karate Championship of Serie A of Jakarta, held on November 18th to 20th, 2022 in Jakarta. The event was followed by 670 athletes from 65 countries and opened by the Minister of Youth and Sports. IADO took part in that event by assigning 4 DCO (Doping Control Officers), 1 BCO (Blood Control Officer) and 4 Chaperones to collect samples of ICT (In Competition Testing).

IADO had duties to collect 12 urine samples and 2 blood samples. IADO was the Sample Collection Authority (SCA), while Testing Authority (TA) and Result Management (RMA) were handled directly by the World Karate Federation (WKF) in cooperation with ITA (International Testing Agency).

IADO appreciated the organizing committee, for they provided all of the necessary infrastructures for doping controls, so that DCOs, BCO and Chaperones worked properly without any difficulty. The duties conducted by them are wished to provide more experiences and evaluation for them to get better performance, for they have to be ready on the next more challenging assignments.