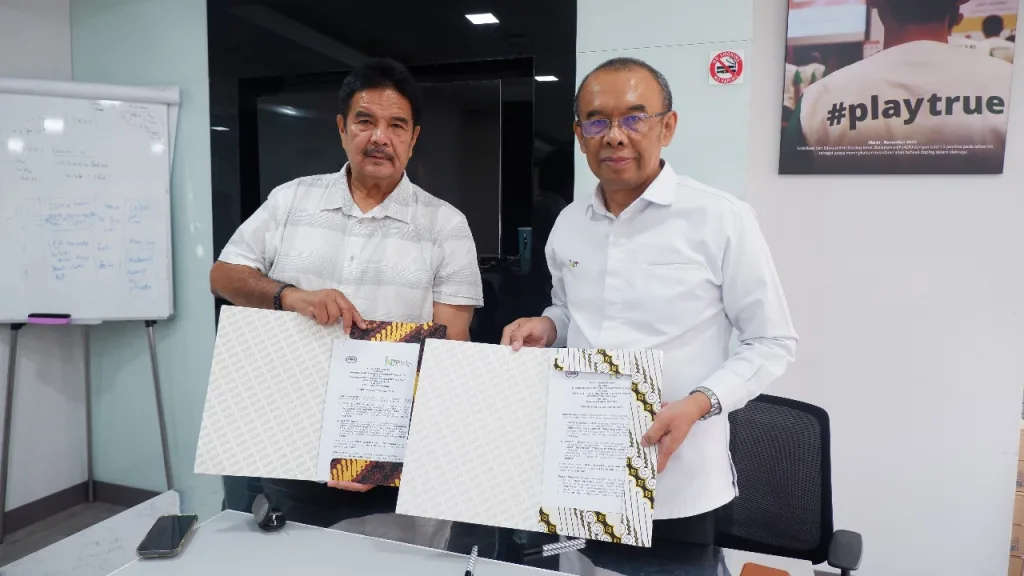 Jakarta, 13 November 2023
Chairman of IJBA (Indonesia Jetsport Boating Association) Mr. Syaiful Ihsan signed the MoU with the Chairman of IADO on November 13th, 2023 at the office of IADO. Such an important signing has added the number of national federations having agreement through MoU with IADO, so that there are exactly 46 national federations signing the MoU. IADI expressed its appreciation to IJBA and other national federation on the MoU, because by signing the agreement these would be an indication to WADA that even thought all of the national federations have supported all of activities conducted by IADO, such support should be however proven by their commitment to sign MoU with IADO. Coincidently, IADO has been strongly endorsed by WADA to add and accelerate the number of national federations engaging to IADO, because their serious commitment which should be shown by national federations are mandatory to be implemented by signing the MoU with its NADO (National Anti-Doping Organization).

On that occasion, Mr. Syaiful Ihsan (more popularly known Mr. Fully) delivered his gratitude to IADO, IJBA has a jargon to be committed to strongly request all of their athletes to be very careful anytime to consume any nutrition and or any drug in competition and out of competition without any exception, in which such policy has also applied to his two sons: Aero Sutan Aswar and Aqsa Sutan Aswar, who used to provide gold or silver medals on various international jet ski championships. Due to his very strict policy, IJBA has tried not to disappoint the government and public on their international events.

So far there is not yet a report from IADO related to the athlete of IJBA having doping or violating anti-doping regulation. IADO wishes athletes from IJBA and other national federations could comply with anti-doping regulations. On the basis of the World Anti-Doping Code, something regarded to be doping does not only relate to any athlete having consumed prohibited substances, but any athlete who rejects to be tested, ignores his / her whereabouts, intimidates others not to obey anti-doping regulation and other actions have been categorized to be doping. IADO was therefore delighted to respond to Mr. Fully to provide more detailed anti-doping education to his athletes.